Welcome to a sneak peek into the world of luxury real estate market in Guam, a beautiful tropical place that's got folks from all over the world interested.
Guam is truly unique. It's got beautiful beaches, clear waters, and lots of greenery. This makes it the perfect setting for high-end houses. You'll find stunning homes right on the beach with their own pools or large properties nestled in the hills. Whatever you like, Guam has it.
Luxury homes in Guam offer the best of both worlds — nature and modern comforts. These homes let you see the ocean and enjoy the great weather all year. Plus, they've got cool extras like private spas, infinity pools, and fun outdoor areas.
One great thing about Guam's real estate is that it's part of the United States. So, if you invest here, you get all the safety and legal protections of the US system. But you also get to enjoy the island's unique culture and charm.
So, stick around with us as we take a closer look at Guam's luxury real estate. We'll talk about why it's such a great place for investors and people looking for a dream home. You'll get to know why this tropical paradise is where luxury and natural beauty meet to create an incredible place to live.
The Allure of Guam's Luxury Real Estate
Guam's not just about sunny skies and pretty scenery — it's all about living the high life, with lots of comfort, class, and that feeling of being part of a special club.
Let's dive into three things that make Guam's fancy houses so irresistible.
Breathtaking Views
The island's stunning coastal panoramas, lush greenery, and vibrant sunsets provide the perfect backdrop for luxury living.
The island boasts remarkable sites like Puntan Dos Amantes (Two Lover's Point), Fish Eye Marine Park, Tanguisson Beach, Cetti Bay Overlook, and Mt. Lam Lam which provide excellent vantage points for stunning panoramas.
The city of Tamuning is also home to Instagrammable locations such as Tumon Beach, Two Lovers Point, Fai Fai Beach, Ypao Beach Park.
Other popular spots include Pagat Point, Fort Santa Agueda, Asan Bay Overlook, and the scenic Pago Bay.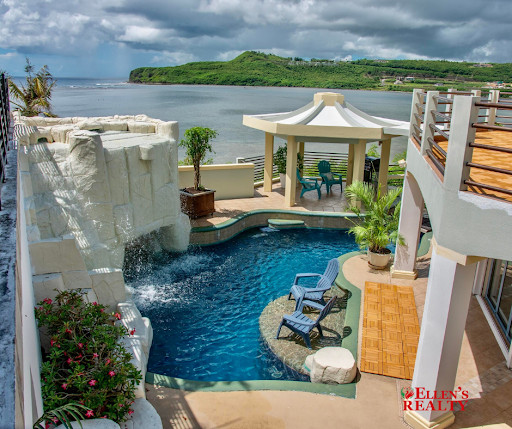 World-class Amenities
From state-of-the-art fitness centers to private beach access, Guam's luxury properties offer amenities that cater to the most discerning tastes.
Architectural Excellence
Guam's high-end homes showcase architectural brilliance, blending traditional island aesthetics with modern design elements. For instance, the oceanfront properties in Pago Bay Estates mix the traditional Chamorro open-living concept with contemporary glass walls and sustainable materials, offering a harmonious blend of culture and innovation.
Top Locations for Luxury Properties in Guam
Luxury Condominiums
Agana Bay Condominiums
Discover ultimate luxury living at Agana Bay Condominiums! Situated by the beautiful coast, these condos provide stunning ocean views from your own private patio.
Picture yourself relaxing to the soothing sea breeze and captivating sunsets daily. With direct beach access, it's like having your own piece of paradise. These condos feature updated kitchens with stylish granite countertops and modern stainless appliances. You'll also appreciate the security of a gated entrance, covered parking, a cool swimming pool, and a fully-equipped gym.
It's more than a home; it's an outstanding investment opportunity!
Blue Lagoon Condominiums
Located in the lively village of Tumon, these exclusive condos provide top-notch beachfront living. They're tucked away from the busy main street, but you're still within walking distance of lots of fun places. These condos start at $2700 a month, and that covers your utilities too, redefining luxury living. If you're looking to buy, they have condos for sale as well.
Basically, you'll get the best of both luxury and convenience here at Blue Lagoon Condominiums.
La Stella Maris Condo
La Stella Maris Condo is all about living by the beach and having a great time. It's right in the middle of downtown Tumon, Guam, and it's a really fancy place to live.
You can wake up to the most amazing views of Tumon Bay from your balcony, perfect for enjoying your morning coffee. And in the evening, you can relax with a glass of wine and watch the beautiful sunset.
But here's the best part — you can walk straight to the beach from your own backyard and there's even a shower there for a quick rinse before going back inside. It's like having your own piece of paradise right there.
Regency Tower Condo
For a perfect mix of luxury and convenience in Guam's bustling tourist hub, look no further than La Stella Maris Condo. With only few exclusive, fully-furnished units, you'll enjoy stunning views of the city and ocean.
Plus, you're steps away from high-end shops and diverse dining options. If you're in the military or healthcare field, it's a strategic location, just 20 minutes from Andersen Air Force Base and the U.S. Naval Hospital.
So, if you're seeking a blend of city and island life, La Stella Maris Condo offers an unparalleled living experience where luxury truly meets paradise. But remember, with only a few units offered, they're a rare find — so don't miss out!
Villa Kanton Tasi
Living at Villa Kanton Tasi Condo in Guam is the definition of luxury. It's right on Tumon Bay's beachfront, making the ocean your backyard.
What's unique here is that each unit was sold as an empty canvas, so you can design it just the way you like. That means every unit is different, making the place even more special.
The best part? The stunning ocean views from every unit. Picture waking up to Tumon Bay every day, having breakfast on your balcony, or listening to the waves as you nap. Sounds serene, right?
And it's not just the units — the shared areas are fantastic too. There's an infinity pool to relax in and a BBQ patio for get-togethers.
While there's no room service, you're super close to lots of restaurants, hotels, shops, and nightlife. So you've got plenty of dining options.
In a nutshell, Villa Kanton Tasi Condo is like living in paradise. It's not just a home, it's a lifestyle. But remember, there are only a few units, so they go quickly.
If you want a luxurious beachfront life, don't wait too long!
Luxury Neighborhoods
Talo Verde Townhomes
If you're more about that community vibe but still want the luxe life, check out Talo Verde Townhomes. It's got the best of both worlds!
If you're considering a home at Talo Verde Townhomes, two fantastic options are the Guma Aire and Guma Isa.
The Aire is your go-to if you love grandeur and entertaining — it's all about high ceilings and split-level layouts.
But if flexibility is what you're after, the Isa with its additional room and open-plan layout might just be the perfect fit for you.
Barrigada Heights
Looking for spacious, open homes with a view? Barrigada Heights has them! It's a top spot if you're hunting for luxury homes in Guam. Barrigada Heights is very family friendly, with safe streets lined with sidewalks that you can often catch people families walking their dogs, riding their bikes,
Just east of the airport, Barrigada Heights is one of the island's more affluent neighborhoods. From here, you can enjoy a panoramic view that spans across Guam, capturing the bustling airport and the scenic hotels lining Tumon Bay.
Just like this listing from Ellen's Realty Guam, you've got a charming 4-bedroom, 2-bathroom house up for grabs in Barrigada Heights. It's at 113 Golondrina, and it's going for $750,000.
Built in 1975, it's got a bit of a vintage vibe, but it's in fair condition. Plus, you get a whopping 2,235 square feet of space to play with. The best part? It sits high up, so you get a killer view of the ocean!
It's close to everything you need and it's in a pretty desirable neighborhood. And if you've got pets, they're totally welcome here. So, what do you think? It could be the perfect fit for you!
Nimitz Hill Area
Living in the luxurious Nimitz Hill area in Guam is like a dream come true. You're surrounded by stunning views and top-tier homes, where you can watch breathtaking sunsets right from your window.
Adding to the charm of this place are the beautiful parks, such as the Nimitz Hill Overlook Park and Asan Inland Unit War in the Pacific National Historical Park, that are just around the corner. The area is also home to significant locations like the Nimitz Hill Chapel, Fonte Plateau, Guam High School and the Fonte Plateau Unit War in the Pacific National Historical Park.
Top-notch restaurants are scattered across the nearby streets, making it a food lover's paradise. It's the perfect spot if you're all about comfort, beauty, and being close to well-known travel destinations.
Pago Bay Area
Imagine living in the Pago Bay Area of Guam, a special place that's all about luxury.
Pago Bay, the largest bay in Guam, offers a unique blend of natural beauty and luxury living. The name "Pago" itself has cultural significance, rooted in the lush wild hibiscus plant, which flourishes in this area.
Properties here are nothing short of extraordinary — with oceanfront homes providing private beach access and a refreshing swimming pool. These estates offer sweeping vistas of the captivating turquoise waters, ensuring a private paradise for those seeking a mansion designed for seamless indoor-outdoor living.
Investment Opportunities in Guam's Luxury Real Estate
Putting money into Guam's luxury properties can be a good move. The island's great location, strong economy, and lots of tourists mean you could make some nice profit.
If you want to get into Guam's luxury house market, you'll need someone who knows their stuff. That's where Ellen's Realty Guam steps in.
Why Choose Ellen's Realty Guam?
When it comes to navigating the realms of luxury real estate in Guam, there's no better partner than Ellen's Realty. The company has established itself as a trusted broker in the region with a reputation for excellence and a commitment to client satisfaction.
Local Expertise
Knowing the local area is super important when you're picking a real estate broker. Ellen's Realty has been doing this in Guam for a long time, so they really know their stuff. They'll guide you through investing in luxury properties and make sure you're making the right choices.
Personalized Service
Every customer is different, and Ellen's Realty gets that. They'll give you service that's just right for you. Whether you're buying your first house or you've done it all before, they'll make sure you get what you need.
Wide Property Selection
Luxury real estate means lots of choices. Maybe you want a house on the beach, a fancy condo, or a big family home. Whatever you're looking for, Ellen's Realty has lots of options to pick from. They've got a big portfolio, so there's something for everyone.
Begin Your Luxury Real Estate Journey with Ellen's Realty Guam
Now, don't forget that Guam also offers many single family luxury homes outside of specific communities. To navigate through these options, we highly recommend getting help from an agent. They'll ensure you find a home that really ticks all your boxes.
Why not start with us at Ellen's Realty? We're experts in luxury properties and their commitment to client satisfaction is second to none.
So, why wait? Reach out to Ellen's Realty today and embark on your journey towards finding your dream home in Guam. After all, you deserve a slice of this paradise!